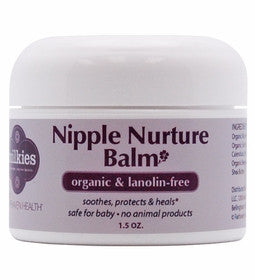 MILKIES Nipple Balm
Milkies
Breastfeeding is the most natural way to nourish your baby but it can lead to sore nipples and discomfort for Mom. For some it may just be uncomfortable, for others it may actually keep them from successfully nursing their baby. Our all-natural, organic nipple balm is designed to soothe, protect, and heal sore or cracked nipples.
Recommended by lactation professionals, Milkies Nipple Nurture Balm is safe for both mother and baby. Organic herbal ingredients are combined with natural moisturizers to help provide soothing relief, heal affected areas, and even prevent cracks from reappearing. Milkies Nipple Nurture Balm is lanolin-free, is not tested on animals, and contains no artificial colors, preservatives or animal products. Milkies Nipple Nurture Balm alleviates the discomfort often associated with breastfeeding so it can be a joyous and special time for you to connect with your baby.
Nipple Nurture Balm Organic Ingredients
• Marshmallow Root: A natural anti-inflammatory, Marshmallow Root helps to form a protective, soothing coating for irritated nipples.
• Self Heal: A medicinal herb used for centuries to fight bacteria and to heal damaged skin.
• Calendula: Known as a wound-healing and skin-soothing botanical herb, calendula also acts as an anti-inflammatory and encourages healthy blood flow to affected areas.
• Shea Butter, Beeswax and Extra Virgin Olive Oil: Safely and naturally moisturizes and protects dry, cracked nipples.
Size 1.5 oz